Hi, everyone. What's in the bag? Well, despite these crazy times, the start of the first term is finally here. Are you prepared? Whether you're setting off for university yourself or sending your little ones to school, the best sustainable school bags & uni bags are ideal to kickstart the term in an ethical way.
Instead of relying on synthetic models produced through dodgy practices, there are so many creative alternatives to choose from.
These are the ones we've been obsessing over, lately!
Isn't this pineapple pattern just adorable? This compact backpack is ideal for younger kids.
Most importantly, it's made by a company that focuses on ethical and fair trade production, uses renewable energy, and only chooses organic, fair trade or recycled materials.
We couldn't help adding another sustainable school bag from the same collection!
If you liked the look of the previous one but weren't too set on pineapples, how about the cutest little dachshunds?
If your children already have a school bag and what they actually need now is a spare one for PE or sports, check out this colourful swim bag.
Lightweight, comfortable, and featuring a penguin pattern. What more could you ask for?
Are you a minimalist at heart and are only planning on carrying the bare essentials when you head to lectures?
This beautiful uni bag will be both a lifesaver and a bold statement!
It's handwoven and made using left-over fabric, meaning that your choice will support a fair trade workshop and help reduce waste.
If you can't even conceive the thought of going to a lecture without your faithful laptop, this unisex bag will set you off for a great day.
Not only is it 100% vegan, but it's made of recycled materials that include post-consumer plastic bottles and other waste recovered from the sea.
Did we mention that it's waterproof and full of useful compartments to keep all your belongings tidy and organised?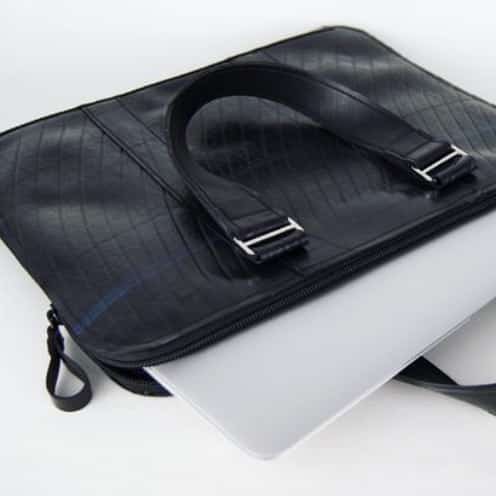 Another stylish vegan laptop bag, this time relying on yet a different creative alternative to traditional polluting fabrics: a whopping 65% of it uses the recycled rubber of tyres' inner tubes!
It's handmade, sophisticated, and padded to give you some extra peace of mind.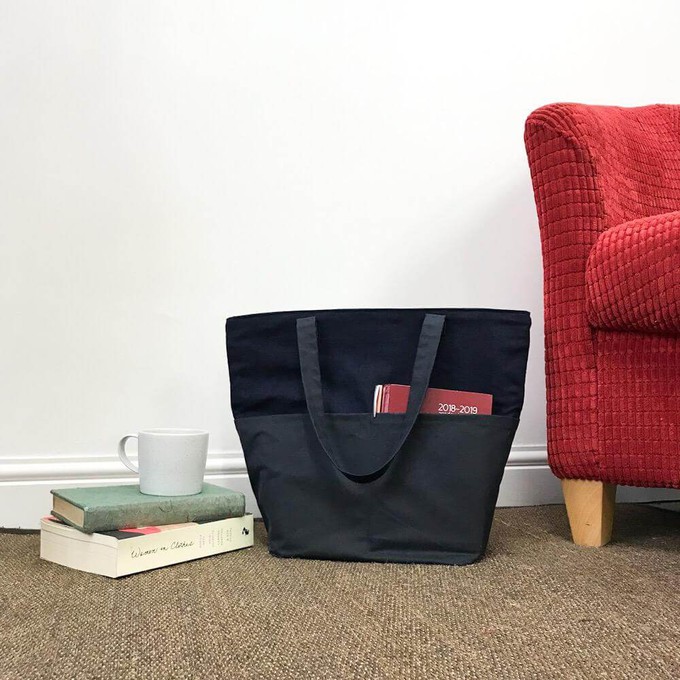 Are you one of those 'I-need-to-carry-everything-with-me' kinds of students? Whether it's books, a reusable water bottle, a laptop or a packed lunch, it's sure to fit in this large tote bag.
It features plenty of practical pockets to avoid losing the smallest accessories in the scientifically unexplainable void of a bag's main compartment. As for its production, it's handcrafted from waxed cotton and linen.
Are you going to opt for versatile black or classy navy blue?
While these are some of the best sustainable school bags & uni bags, don't forget that there are plenty more options in our women, men and kids section. Use our filters do define what sustainable really means to you and what type of bag you're after.
Best of luck with the new term from the Project Cece team. You've got this!
Related articles:
Project Cece is a platform that collects ethical clothing from different webshops on one website. Take a look in our shopping section and find the clothing that fits your style, budget and values!